I decided to be a tourist for a bit this week. On Sunday afternoon I went to see the Gyeongbokgung Palace. It was the first thing on my list of touristy things in Seoul, and it turned out to be only one subway stop away from church.
It was a beautiful day, the perfect weather for it. I opted against a guided tour and just wandered around enjoying the scenery and the cool breeze. There's a large pond on the grounds and I perched on a bench for a while listening to a man playing the harmonica. With the tourist atmosphere came a slew of languages blending along the path behind me, including what seemed like a dozen accents of English and a little Sparrow and Magpie (with Korean accents.)
All in all it made for a good way to spend an afternoon, and I got some nice pictures (in my opinion.)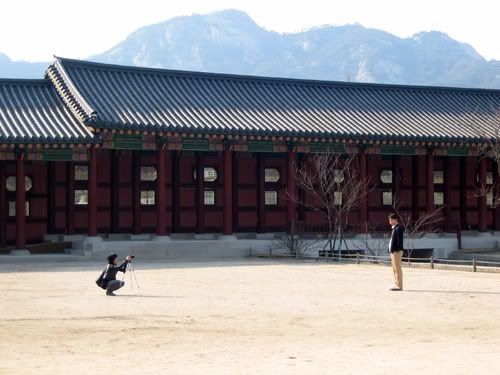 Saint Patrick's day here was a nightmare, the kind in which all of your tormentors are wearing vests and top hats made out of greed construction paper. The school decided to set aside three full hours for celebration to be planned and executed by the individual teachers. I was hard pressed to think of a time when celebrating St. Patrick's Day meant more than hoping I had some piece of green clothing that wasn't in the laundry hamper and possibly wearing my 1980 vote for Kennedy button (which I found, to my dismay, was put in storage before I moved, so no Kennedy this year.) So, it was three hours of craft time.
The pre-made kits for our construction paper hats didn't come with the warning that the hats would fall apart before we finished constructing them. Our supervisor knew it was a problem, so she duly warned our teacher helpers and gave them some tips for solving the problem. My teacher helper doesn't speak English. I just felt like pointing that out, really. Her linguistic proficiencies were never an issue since she was providing face painting for all the students that day and was never in my class.
So, three dreadful hours of glue sticks, scissors, yarn and green paper and my class has turned out a pile of glue sticks, scissors, yarn and green paper. We set the pile aside, break for lunch, and come back resolved to move on and finish the day on a good note. We're going to learn how to play Uno. I'm demonstrating the game when my supervisor pops her head in the door. "Picture time! Where are the hats?"
It's unthinkable to take the picture without the hats. So, now my kids have to watch silently for the next 20 minutes as a staff of 4 Korean women recreates their failed craft project with yards of scotch tape and pounds of staples.
I can't blame them for any bad behavior after that. Kids who are put through that deserve to be unruly.
I did cap the day off by joining some coworkers at Bennigan's in the hopes that there would be corned beef. There wasn't, but they did still serve food, and at that point that was all that mattered.
And thus we see another St. Patrick's Day pass and rejoice the lack of snakes in Ireland and the lack of holidays next week.